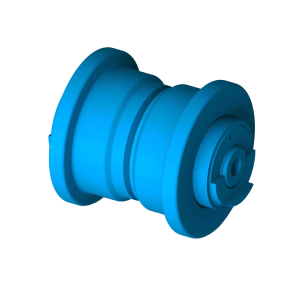 Feature:
MIG welded steel forged or casted roller shell.
Specific heat treatment upgrade mechanical properties for wear resistance. Superior structural support to against deformation.
Lifetime lubrication to eliminate roller maintenance and reduce operating costs.
Bimetallic bushings.
Application:
For excavator, it gives a support to hign static load.
For tractor, it guarantees high speed reliability and axial load resistance.
Model:
Bobcat:
X225, 231, 325, 328, 331, 33, E26, E32, E35, X320, 322, E16, X337, X435, E85, X442, X445, X120, X123
Caterpillar:
BS2F,BS3F,D3B,D4C,D3K,D4K,CAT301.5~8/CR,CAT302.5/C,CAT303.5/C/CR,CAT303CR/CCR/SR/CSR,CAT304.5,CAT304CR/CCR,CAT305.5,CAT305CR/SR/CCR,CAT307/A/B/SSR,CAT308/BSR/BCR,E70/B
Daewoo/Doosan:
Solar15/015, DX27Z, DX35Z, Solar030/Plus, Solar035, Solar 55/-3/55V
Hitachi:
ZX10U,EX08,ZX08,EX12,EX15,EX16,EX17,EX18,EX20,ZX16,ZX17,ZX18,EX20UR,EX22,EX25,EX30,EX33MU/U,EX35-1/2/U,EX40UR-1~3,ZX27U,ZX30U/UR/33U/35U,EX40-1/2/U,EX45,ZX48U,EX50U,EX55UR,EX58MU,ZX40U/UR/48U/50U,ZX50,ZX55U/UR,ZX60USB,ZX50U,EX60,EX75UR,EX80,ZX70,ZX75/UR/US,ZX80/SB/US
JCB:
8008, 8010, 801.4~6, 8014, 8016, 8018, 8020, 802.5, 802.7, 8025, 8026, 8027, 803, 8030, 8035, 804, 8040, 8045,805,805.2, 806, 8050, 8052, 8055, 8060, 8065, JS70, JZ70, 8085, 8080
Kobelco:
SK024,SK13SR,SK15,SK025,SK07,SK030,SK035,SK15SR,SK20SR,SK25SR-1,SK30SR,SK35SR,SK35SRSK40SR,SK45SR,SK50UR,SK50SR-3,SK60-2,SK70SR,SK75SR,SK80SR,SK100,SK115SR,SK120,SK100, SK135SR/-2
Komatsu:
PC12R,PC14R,PC15MR,PC05,PC07,PC16MR,PC10,PC12,PC12UU,PC20/MR,PC25/R,PC28,PC30,PC26MR,PC27R,PC30,PC30MR,PC30UU,PC30MRX,PC35R,PC40/MR/MRX/R/AVR,PC45/R/MRX/AVR,PC50UU/MR,PC60/U/L,D20/D21-7,PC70,PC75/UU,PC78MR/UU/US,PC88/MR,D31P-20
Kubota:
U008,U10,U15,U17,U20,U25,U30,U35,U40,U45,U48,U50,U55,RX503/503S/505,KX161-3,KX057,KX121,KX040,RX302/303/303S,RX403/403S,KX61,KX71,KX91,KX101,K030,K035,KX36,KX41,KH012/14,RX203S,KX016,KX018,KX019,KX36,KX41,K008,KX080,KH41,KX36,KX41,KH51,KH60,KH61,KH65,KH66,KH71,KH90,KH101,K022/025/028/030/035,KX90,KX101,KX161,K045
Morooka:
MST300/VD,MST800/1000,CG60,CG65,MST1500/1700,MST2000/2200/2200V/2300/2600,CG70,CG100, CG110
Takeuchi:
TB007, TB10/S, TB12, TB14, TB15, TB105, TB106, TB108, TB120, TB120R, TB20, TB21, TB22, TB25, TB250, TB300, TB300R, TB35, TB350, TB350R, TB35S, TB36, TB36S, TB016, SWE17, TB015, TB038, TB030, TB045, TB68, TB23R, TB125, TB128, TB130, TB135, TB138FR, TB228, TB235, TB25FR, TB28FR, TB145, TB153FR, TB53FR, TB250, TB070, TB175, TB068FR, TB75FR, TB80FR, TB180FR
Volvo/Pel-Job:
EC14,EC15,EB10/12/14/16,EB150/XR,EC20,EB200,EB22,EB27,EB36,EC25,EC30,EC35,EC40,ECR28, ECR38,EB250,EB300,EB350,EB406,EC45,EB450,EC55,EC55B,ECR58,EC70,EC80,ECR88,EC135,EC140 ,EC150, EC160, EC210, EC240