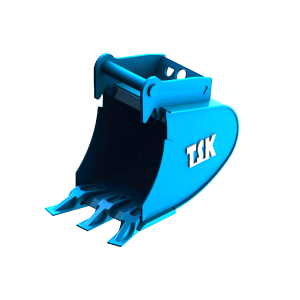 Feature and Application:
Mini buckets suit to 0.8Ton to 8Ton excavators, and also mainly for Kubota, JCB, Boacat, CAT, KOMATSU and YANMAR.
Bolt on teeth system instead of welded on adapter.
Side cutter is optional to improve wear resistance for whole longer life.
Main usage are for digging sand, mud and other material.
Cover most mini excavators and Lehnhoff style.
Model:
KUBOTA: KX008,KX36,KX41,KX61,KX71,KX91,KX121,KX161,KX080 U27 K50
Bobcat: E10 E16 DX19 X316 X320 X325 X335 X442
Case: CX16B CX18 CX22B C28 CK25 CX36B CX40 CX50 CX27 CX75 CX40 K580 CX130 CX135 580N
Cat: 301 301.5 302.5 303C 304C 304CR 305C 307 432 428 438
Komatsu: PC03 PC12 PC16MR-3 PC18MR PC26MR-3 PCM27-8 PC28 PCM55MR-3 PC78 PCM80MR PC138 PC88MR WB93-2 PC110
Volvo: EC15 EC20 EC25 EC35 EC55 EC71 EC88R EC140 BL71
Hitachi: EX08 EX15 EX17 EX22 EX30 EX60-3/5 ZX27U-3 ZX35U-3 ZX50 ZX50U-3 ZX60U ZX80 ZX85D ZX130 FH130
JCB: 8008 Micro 8014 8080 801 802 8025 803 8035 804.5 8052 JCB GRAVE DIGGER 1CX 2CX 3CX JZ070 JS130
Takeuchi: T007 TB108 TB014 TB015 TB016 TB025 TB035/235 TB250/045 TB125 TB145 TB153 TB175
YANMAR: VIO017 VIO30 VIO45 VIO55 VIO75 VIO80
HYUNDAI: R16 R80 R55-7
NEW HOLLAND: E18SR E70SR
DOOSAN: DX80 DX140 DX60R
JOHN DEERE: 50Q 35Q 410J
KOBELCO: SK50SR SK80 SK140
SANY: SY135
And even more…