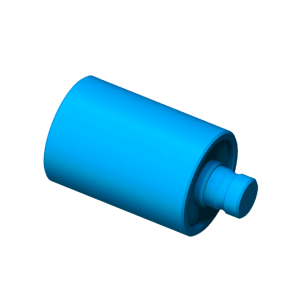 Feature:
Top carrier roller is to support the chain in every condition.
Designed in different types of flange, such as single flange, middle flange or no flange.
Equiped with bearings or bushings inside to get a better performance to meet any requirements.
Application:
Cover most excavators, especially for mini excavators.
Also for famous Morooka dumpers.
Model:
Bobcat: E85 X337
Case: CK25, CK28, CK32, CK35, CK36, CK38, CK31, CX28, CX28, CX31, CX35, CK50, CK52, CK62, Case70, Case9007, CX75SR, CX80SR
Hanix: H22A, H22B, H24A, H25B, H26B, H26C, H29A, H30A, H36B, H36C, H36R, H50B, H56C
Hitachi: EX22/25/30/35, EX20UR-1, EX27U, EX29U, EX30-1/2, EX33U, EX33MU, EX35-1/2,EX40-1/2,EX40UR-1/2,EX45-1/2,EX50U,EX55UR-1/2,EX58MU,ZX30U/35U/40U/50U, ZX30UR/40UR/55UR, ZX40U/50U, ZX40U-2/3/4, ZX50, ZX50U-2/3/4, ZX55UR-2/3/4, EX60-1~3, EX60UR, EX75-1, EX75UR-1~3, EX90, EX60-5, EX60LC-5, EX70LC-5, EX80-5, ZX70, ZX75UR, ZX75US, ZX80, ZX80LC-5, EX100-2~5, EX100M-2~5, EX120-2~5, EX130H-5, EX135, EX135UR-5, ZX110, ZX120, ZX130, ZX135UR/US, ZX200, ZX200-3, ZX210, ZX210-3. ZX220-3/5, ZX240-3/LC-3, EX100M-5, EX165, EX200-2/3, EX200LC-2/3, EX215LC, EX220-2/3, EX220LC-2/3, EX255, EG70, EG70R
Hydundai: R80-7
IHI: IS50UX/VX, IS27G, IS28J, IS30G, IS35G, IS40G, IS50G, CCH50T, 55J, IC70, IC45
Iwafuji: U3B, U4B
JCB: JCB802, 802.7, 803, 8025, 8030, 8035, JCB804,805, 806, 8040, 8045, 8050, 8055, 8060, 8065, JS70, JCB 8080, 8085, 8086, JS110, JS115
Kato: HD512
Kobelco: SK024-1, SK025-1/2, SK030-1/2, SK032, SK035-1/2, SK25SR, SK27SR, SK30SR-1~3, SK30UR, SK35SR-2/3, SK40SR, SK50UR-2, SK30, SK40SR-3, SK42, SK045-1, SK45SR-1, SK50UR-1, SK55SR-5, SK60-1~3/Mark III/IV, SK70SR-1/2, SK75UR-1~3, SK80SR, SK85SR, SK100-1~3, SK120-1~3, SK100SR, SK115SR, SK135SR, SK135-2, SK150/160LC Mark III, SK200-1~3, SK200 Mark III, SK210LC Mark III/IV, SK220LC Mark III, SK200-6
Komatsu: PC10, PC10-7, PC15, PC15-3, PC15-3E, PC20, PC20AVR, PC20-7, PC25R-8, PC27R-8, PC30-7, PC45R-8, PC30/30R(S#10001 and up), PC30-8, PC30R-8, PC35-8, PC35R-8, PC35MR-1, PC38UU-3, PC40R/MR/MRX, PC40R-8, PC40MR-1, PC45, PC45R-8, PC45R/MR/MRX, PC50-2(S#14993 and up), PC50MU-2, PC58UU, PC25-1, PC25R-1, PC25AVR, PC30-7, PC38-2, PC38MU-2, PC38UU-2, PC60-6, PC40-5/6/7, PC45AVR, PC50UU-2, PC30AVR, PC38-2, PC38MU-2, PC40-7, PC40AVR, PC50-2AV, PC60-7, PC70-7(R/T and S/T), PC75-2(S#10371 and up), PC75-3, PC78US, PC78MR-6, PC75-2/3, PC75UU-2, PC60-3~6, PC70-6, PC75-1, PC80-3, PC90AR, PC100-3~6, PC120-3~6, PC128US-1, PC138US, PC200-3/5/6/7, PC220, D60R-1, D20-6, D20P-6, D20-7, PC88MR-8, CD60R
Kubota: K025, K028, K030, K035, KH51, KH60, KH66, KH71, KH90, KH101, U30, U35, KX024, KX026, KX51, KX61-2, KX71-2, KX91-2, KX101-2, KX121-2, K040(S#10216 up), K045(S#10096 up), KX045, RX502, U45, KH151, KH191, KX151, KX161-2,U20-3/3S, U25-3/3S, U30-3/3S/5, U35-3/3S/5, K030-3/3S/5, K035-3/3S/5, RX303/303S/305, RX403/403S/405, KX61-3, KX71-3, KX91-3, U40-3/3S/5, U45-3, U50-3/3S/5, RX503/503S/505, KX057-4, KX121-3, KX161-3, KX60-3, KX080-3
Morooka: MST300/VD, MST800, MST1100/1500/1500V/1700/2000/2200/2300
Mitasubishi/ CAT: BS3F/G/H, BD2F/G/H, D3, D3B/C, D4B/C/G, 931/B/C, 935, CAT315/L, 317/N/BL/BLN, 318C/BL/BN, 320/B/BL/BLL/C/CL, 322/B/CL/LN/N, 323BL/DL/DLN, E200B, EL200B, CAT311/B/C/D, CAT312/B/C/D, CAT313/B/C/BSR/BCR, CAT314C, E110B, E120B, E70/B, CAT307/B/C,CAT308/BSR/BCR, MM30CR/SR, MM35B, MM40SR, CAT302.5, CAT303.5, CAT304CCR, CAT305CCR, MM40CR, MM45B, MM55SR, MM57SR, CAT304.5, 304CR, CAT305/CR
Neuson: 2503/RD, 28Z3, 3003RD, 3503RD, 3703RD, 38Z3, 50Z3, 5001
New Holland: E27SR, E30SR, E35SR, E39, E50SR, E50BSR, EH50.B, E80SR
Sumitomo: SH200-1~3, SH220-1~3, SH130-2, SH100-1~3, SH120-1~3, SH145-1, SH60-2, SH75U, SH75U-2, SH75X, SH75X-2, SH75XU, SH75XU2, S160F2, SH75X-3, SH45
Takeuchi: TB025, TB035, TB125, TB135, TB25FR, TB28FR, TB125, TB135, TB138FR, TB28FR(, TB045, TB145, TB153, TB53FR, TB290, TB250, TB068R, TB070, TB75FR, TB80FR, TB180, TB175, TB1140
Volvo: EC25, EC30, EC35, ECR28, ECR38, EB250, EB300, EB350, EB450, EC50, EC55, EC55B, ECR58, MX55, EC70, EC70W, EC80, ECR88, EC210, EC240, EC290
Yanmar: B27, B25V, B30V, B37, Vio27V, Vio30V, B25, Vio25, Vio27-2/3, Vio30-1~5, Vio33, Vio35-1`5, Vio38, B3Z-3/5, SV26, Vio40-5B, Vio50/-5B, Vio45, Vio55V, Vio55-3, Vio70-2, Vio75, B50-1/2, B50V, B6-3, B7-5, Vio40-2/3, Vio45, Vio55V, Vio55-3, Vio57, Vio70-2, Vio80, B6-3, B7-3/5, SV100, C20R, C25R, C30R, C30R-1/2, C30R-2A, C50R, C50R-1, C50R-2, C80R, C50R-3/3A