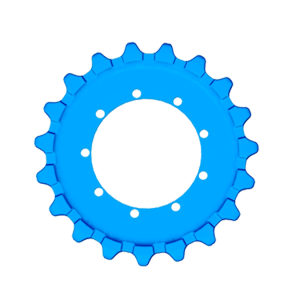 Feature:
Excavator sprocket supplier in China. Sprockets are casted by cast steel, also could with Si, Cr, Mn element.
Q+T heat treatment and Induction harden on the entire tooth profile ensure proper hardness, providing long wear resistance and durability.
Accurate machining of mounting dimensions guarantee the best fit with gearbox.
Application:
For hydraulic excavator range from 6-40 Ton.
For mining machine, diameter could above 1000mm.
Also for track dumper, crawler loader and so on.
Model:
CAT: 303C, 303CC, 304CR, 308B SR, REGA308C, E100B/ E110B/ 311/ 312/ 313, E120B. E200B / EL200B, 320 / 320L / 322 / 322N, 325 / 325L, 330 / 330L, 350, 375, 245.
CAT DOZER: BS3G/BD2G, BD2F/BD3F, D3B, D3C, D3K2, D5G, D9L, D3K2, LD1000.
DEAWOO-DOOSAN: DH035, DH55-5, DH70-3/DH70-5, DH170-3/-5, T17/DX160, DH08/DH220-3, DH220-3,DH220-5, DH220-5. DH220-7, DH240-5/T25/DX255, DH290-3, DH290-V, DH330-V, DH280-3, DH280-1/-3, DH300-5, T30, DX300, DH360-5/DH400-5, DH450-3. DH450-5/DH500-7, DH130-3, DH130-5,DH150-7
BOBCAT: DH030 X325D-2 / X328D-2 / X331-2.
HITACHI: EX60-2/-3, EX60-5 / ZX70, ZX70-3, EX100/EX120 / ZX130, ZX120-3/ZX135US, ZX135US-3 EX135US-5, EX150-1, EX200-1. EX200-2/EX220-2, EX200-3/-5 /ZX200/ZX220, ZX200-3, EX270-1/-2, EX300-1/-2, EX270-3, EX300-3, ZX270/ZX330/EX300-5. EX400-1/-2/-3, EX750, EX1100/1250, EX1800/EX1900, EG40R EG70R EG110R, EX30-1/-2, EX40U-1. EX50U-1, ZX40-1, ZX40U-1, ZX50-1, ZX50U-1, EX45/EX50UR/EX55UR.
HYUNDAI: R55-7, R80-7, R130-3/R1300 R130-5/R1300-5, R140-7, R160-7, R180-7, R210-3, R220-5 R210-7, R225-7, R225-7/R240-5. R250-7, R250-7, R290-3, R320, R2900,R290-5/-7, R305-7R, 360-5/-7, R450-7
IHI: IC45, IC70, IC75, IC100, IC120.
IWAFUJI: U-3B, U-3C, U-4B, U-4C, U-6B, U-6C
KOBELCO: Z66, 1.7TON, 2TON, Z94, Z96, Z83, Z82, Z85, Z84, SK60-1/-3, SK100, B41, B50, B72, SK04-N2, SK120S, K200-8, SK07-N2. SK200-1/-2, B93, B47, B103, SK220-1/-2/-3, SK220L-1/-2/-3, B100, SK220-1,-2, SK230-6, SK300, SK300-3, SK320-6, SK330, B62. B114, B117, SK800, Z89, B139, B130.
KOMATSU: PC60-6, PC60-7/PC75-1/PC75UU-1PC75UU-3, PC78UU-6, PC78UU-8, PC100-2/-3, PC120-3, PC100-6, PC120-5/-6. PC130-7, PC138, PC180-3, PC200-3, PC220-3, PC240-3, PC280-3, PC300-3/-5, PC300-6, PC360-1/-3/-5, PC400-3/-5. PC400-6, PC1500-27/PC1600-27, C60R-1B, PC200-5/-6, PC210-6, PC220-5/-6, PC230-6, PC02-1, PC03-2, PC05-7/PC07-2. PC10-2/-6/-7/PC20-8/PC25R/PC27R, PC10-8, PC20R, PC27, PC20-6/PC30-7, PC20MR-3, PC30MR/PC35MR. PC40MR-1/-2, PC55MR-2, PC40-7, CD20R-1, CD110R, D20-5/D21 D30-17/D31/D37, D31PX-21, D30A-15, D40, D41, D40P-6, D60-6, D61PX-12.
KUBOTA: R41-KAMS, LC43, U20, U45, U40-3, U50-3, RX503/KX163-5/KX165-5KX-045, KX-030, KX-033, KX-024, KX-014. LA1, LB1, LB2, LC1, LC2 / U30-3/LC24US, KX121-3, SS1, SS2, KX163-5, KX165-5.
LIEBHEER: 902, 912, 922, B60L, 932HDS/HDSL/B60, 954HD/D7E, 964/D8K, 974/B9S, 942HDS/HDSL/D7, 912HDS/D6C, D7E.
MOROOKA: MST600, MST800, MST1500, MST2000, MST1500V, MST2000V, MST2200.
NEUSON: 11002HV, BAGGER 1402RD,1502RD, BAGGER 1702RD,2202RD, BAGGER 2702RD,3602RD, BAGGER 8002RD,8002HV. GEBIRSHARVESTER 8002RD, BAGGER 5002RD,6002RD, BAGGER 8003RD 8003RD/75Z3, TD15-3S.
SUMITOMO: SH100LL, LS2600EJ/LS2650EJ/LS2650C, SH100-2/SH120-2, SH300-2/SH350-2, SH400-2/SH450-2, LS2600FJ/LS2650FJ. LS2800FJ, LS-2700CE, LS2800EJ/LS2800B, LS-2800DJ, LS-3400EJ, LS-4300EJ/LS-4300FJ/LS-4300C, SH300-3MC. SH650-3, LS2650C, SH120-3, SH135X-3, CX120, 120LX, SH200-3, SH240/CX210, CX240/210LX, 240LXS. H300-3/350-3/CX290, CX330/290LX, 330LXSH400-3, SH450-3/CX460/460LX, SH800-2/SH800-3/CX800/800LX, SH60-2/SH75U-2/LS1600LS/LS1600FJ2, SH150, LS2700Q, LS2800EJ2, FLJ2, C2, FJ. FJ2, LS-4300FJ2, LS-4300C2.
VOLVO: MX55A/EC55A , EC55B, EC80, EC140, EC200MX-3/MX55, MX132LCM, MX222, SE210-2, MX225, SE210-3. EC210, MX255, SE240-3, EC240, MX295, B106, EC290, MX292, MX352, SE350-2, EC360, MX452, SE450-2, EC460.
YANMAR: Vio30/Vio35, Vio40-1, Vio70-2, J6,B7∑, B7-3CR, B7-3PR, Vio75, B12, B14, B17, B37, A19, A19, C10R-1, C12R, C12R-A, C25R. CARRIER DUMP, C50R-1/-2 CARRIER DUMP, C50R-3 CARRIER DUMP, C60R CARRIER DUMP, C80R. CARRIER DUMP, C80R-2 CARRIER DUMP , CT95, A12, B05, SV05, SV08, SV10-2, Vio15-2, Vio17, Vio17, Vio20. Vio27. Vio30/Vio35, Vio40-5/Vio50-5/B4-6/B6-6, Vio40-5/Vio50-5/B4-6/B6-6, SV100, Vio15